Today July 6th is a national holiday in Malawi, commemorating the date in 1964 when Malawi gained independence within the Commonwealth. I took the minibus home from Madisi Secondary School to my home in Wimbe, Kasungu District, and began a project to upgrade the main source of power generation from a bicycle dynamo to a treadmill motor, a much more powerful generator of electricity.
I was given the motor by Mike and Peter of Baobab Health, where I will have an after-school job beginning in August. They bought the motor as part of a kit to build a windmill from a story they saw in the American Do-It-Yourself magazine, MAKE. They were intending to build a windmill from a kit to power one of their remote health care computer systems but gave me the motor and a Volt meter as a gift when I first met them. I had already been to the TEDGlobal Conference with their colleague Soyapi. I was very happy to receive this motor and have been wanting to install it on the windmill for some time.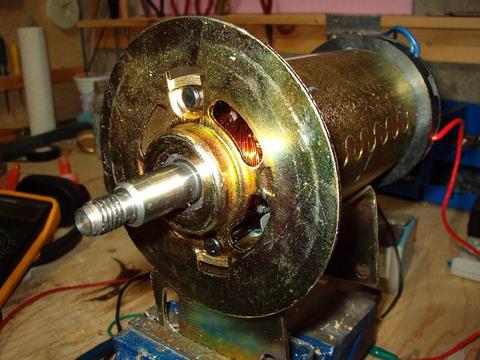 Treadmill motor. Photo credit: otherpower.com
I have never seen a treadmill, but understand that it is a moving belt that people walk or run on in place to get exercise. At its peak power, the treadmill motor puts out 48V DC, but with the winds in my village, it averages about 18V which is sufficient to charge the new deep cycle batteries referred to in an earlier post. My cousin Geoffrey helped me. I removed the bicycle wheel, installed the new treadmill motor, and a series of two pulleys to increase the power output from the main windmill shaft. We finished our project late this afternoon. The new motor will charge the batteries more quickly than the previous source of power, and the charge controller will keep it from overcharging them.
Some people have asked if the windmill is unsafe. What will happen they say, if it blows over in a high wind, or the blades come off? For these and other reasons I have positioned the windmill a safe distance from our home and from that of any other home in the neighborhood. If something falls in an accident, it will not hit any person. Also, people have asked about bracing for the new metal blades and I'm sure will ask about the new heavier motor.
Because I'm relaying this post by phone, I will have to get more information to my American blog helper to answer your questions, but I can say that I'm very concerned about safety. I've operated this windmill for 2 and 1/2 years and many things have broken along the way. No one has ever been hurt. We've recently installed a lightning rod (lightning diverter we say here) and we now have a fire extinguisher for the house. I welcome your suggestions on how to improve safety of any aspect of the design. Of course, I want to have the safest system possible for my family.
I also wanted to thank you for the over 200 comments I have received since beginning the blog just over two weeks ago. Please keep your questions, comments, feedback and suggestions coming.